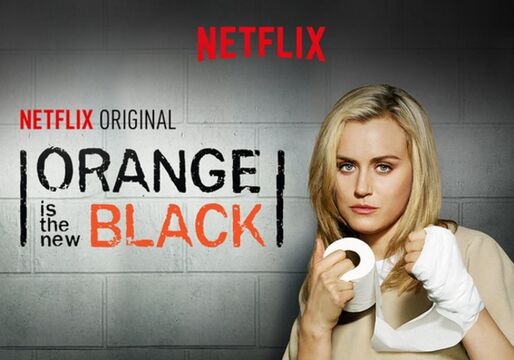 The Original Netflix Series Orange is the New Black returns June 12th.  If you still have not started this series…Go. Watch. Now.  You have two seasons to catch up on before the Season 3 premier next week. -And yes, it possible for a quick binge session.  Seriously grab some pop corn, get your couch ready for a marathon and we'll just wait for you to be done so we can move on to the Top 5 Reasons We Can't Wait for OITNB.
Okay, done?  Good.
Let's do this…
#5.  Vee…
Is she dead?  Does she make it?  Rumors have it that she's dead…but really, do we believe everything we see on the Internet?  How will Taystee take it? And how about Crazy Eyes?
#4. Big Boo The Big Mouth…
We finally get to see her backstory!
#3. Daya & Bennett…
When is this baby coming?  It feels like she's been pregnant forever!  Since we hear Porn-Stache won't be back, but his mom may make an appearance – is she planning to take her "grand baby" away from Daya?
#2. The Meth Heads…
Pennsatucky  and Big Boo are becoming BFF's…We're sure that's going to make for an interesting story line.
#1.  Alex is back!
Will Piper and Alex reunite?  Will a new character bring on a Love Triangle?
June 12th can't come soon enough…we're counting down the minutes for Season 3, OITNB