By employing an army of social influencers, this LA based fashion label grew to 600 staffers in less than 3 years
Instagram is life and Fashion Nova has made a nice living on the gram.  Their photos are everywhere as they focus on traditional sizes as well as curvaceous women.  They feature social influencers  squeezed into tight, strategically ripped jeans, body-conscious velvet dresses, and lace-up bodysuits.
But the women are not celebrities per se, they compromise mostly of local influencers that work as brand ambassadors and share their photo along with a "coupon code" with strategic posts.  This tracks back the efficacy of that particular post or representative.  "They do this so they know what works and what doesn't" says Dan Caruso, Digital Marketing Consultant at X Factor Media.  "They're influencers for Fashion Nova, a brand you've heard of, maybe even shopped, whose ground game is almost entirely focused on social media, rather than spreads in magazines or shelf space in boutiques" according to a recent BuzzFeed piece on the company..
The campaign is definitely working as the company is experiencing exponential growth.  In less than 3 Fashion Nova has grown to a staff more than 600 people, who produce roughly  500 new designs a week. On Instagram, they boast roughly 7 million real followers.  You can tell by the ratio of likes and comments that they are not stacking the deck.  They are a true IG marketing force.  They do use celebrities like Kyle Jenner and Amber Rose, however they are not the core to their strategy.
Or, put another way, as rapper and reality star Cardi B wrote in an Instagram post: "My shoes Balenciaga but my fit @fashionnova THOOO Duuuuhhhhhh."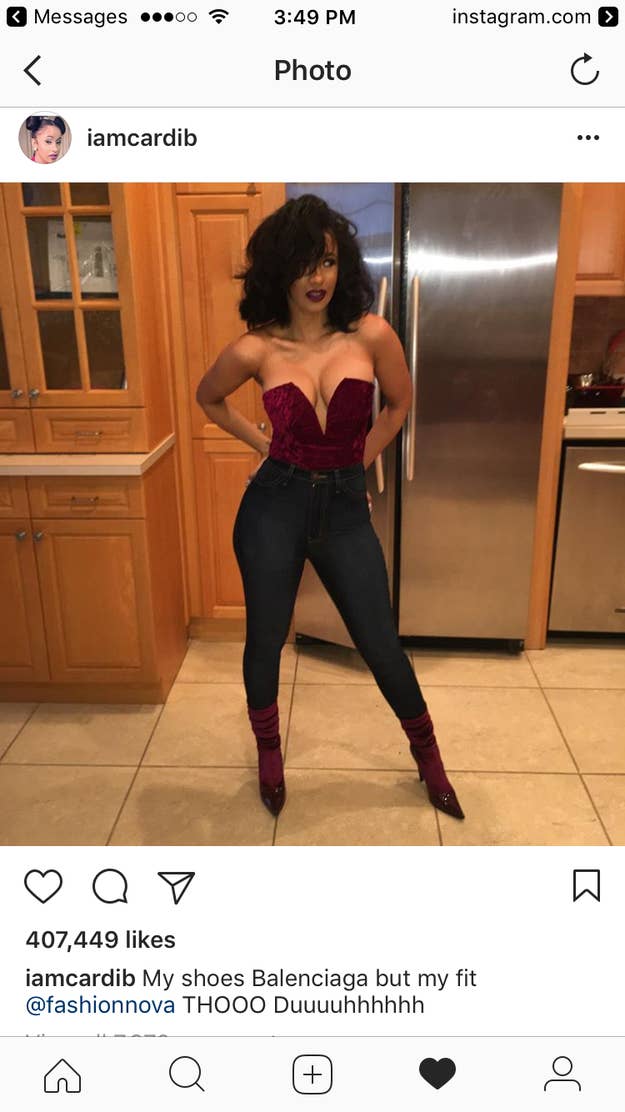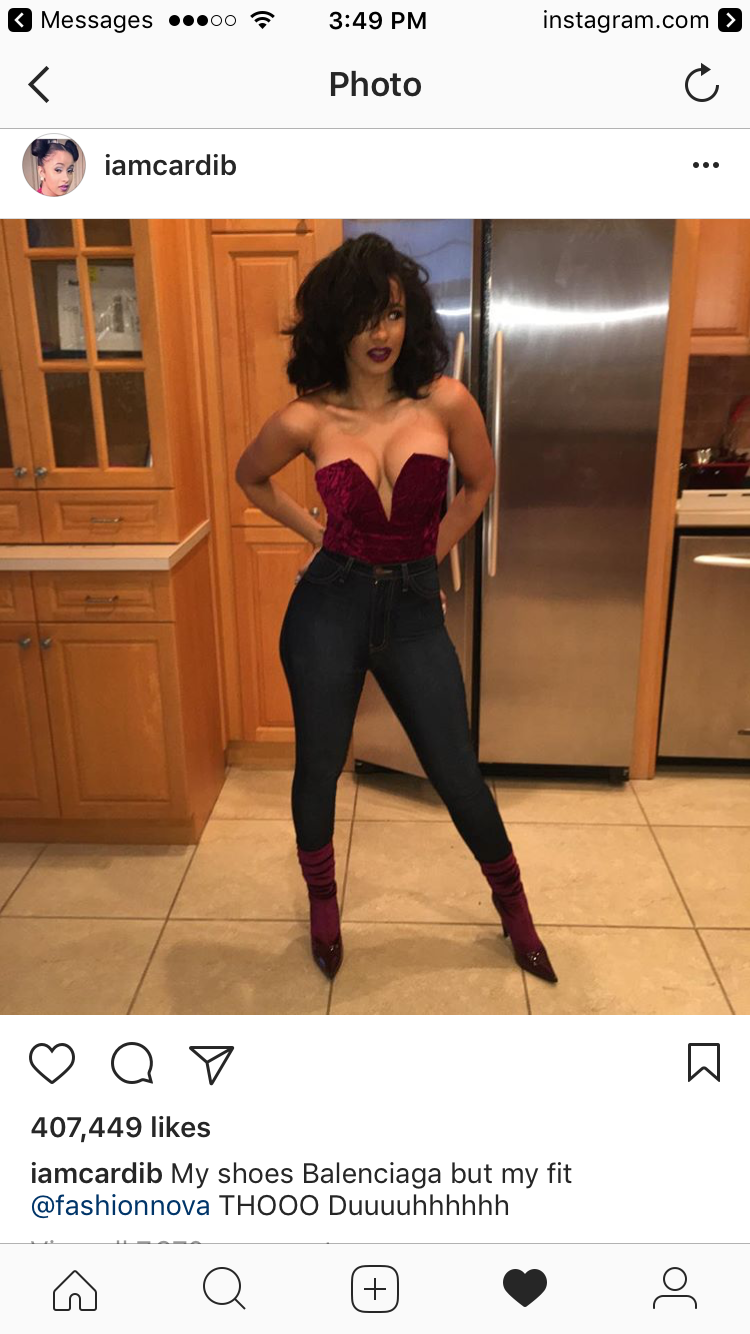 Source:
https://www.buzzfeed.com/leticiamiranda/fashion-nova?utm_term=.pleD046MPg#.bbrdoqNApB
Fashion Nova says its bodycon brand has been built by obsessing over what people are wearing on social media, turning out affordable pieces inspired by the Instagram feeds of reality TV stars — often within days of the photos being posted according to BuzzFeed.
"The concept is that the runways are dying," Richard Saghian, its founder and CEO, told BuzzFeed News. "If you think about it, why did they have runways before? Because there was no internet. People are now looking at their feed for fashion inspiration more than they are the runways."
The Fashion Nova army is a network of 3,000 influencers that reach tens of millions of fans who have elevated the brand to another level.  Some of them include reality stars such as Bad Girls Club Angala Babicz, YouTube star Tara Mongeau and 50 cent baby mama Daphne Joy.
Image Source: @Angelababicz / Instagram
The agreement they make with Fashion Nova is pretty straight forward.  A representative emails her about once a month to get her clothing order, she picks out anywhere from 10 to 15 items and then posts a picture to Instagram wearing the product. She said no money changes hands — just free clothes according to BuzzFeeed.
According to their Founder, Richard Saghian says his company, based in Vernon, California, has grown its sales "exponentially" every year since it launched online in 2014 — although he declined to give specific financial or sales figures in a recent interview. While the brand doesn't invest its time wooing super A list celebrities and tastemakers in the fashion media, like traditional brands.  They focus maniacally on social influencers with local and/or regional clout.
"We launch 500 new styles a week," said Saghian. "A lot of the big brands may bring 500 fresh styles in a year. But people don't get tired of us." in a recent BuzzFeed interview.
The numbers on social media are staggering.  Fashion Nova is showing no signs of slowing down as they add 500,000 new Instagram followers every month, and its "Curve" page, dedicated to plus sizes, has more than 217,000 followers. Its loyal fans include celebrities like Blac Chyna, Cardi B and Lala Anthony, who have all been spotted wearing the brand's jeans, which typically cost no more than $40.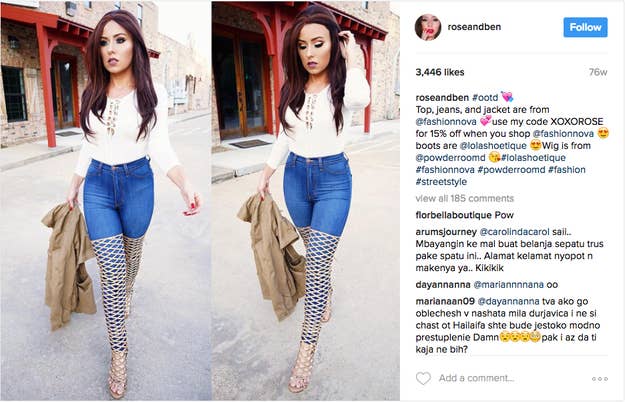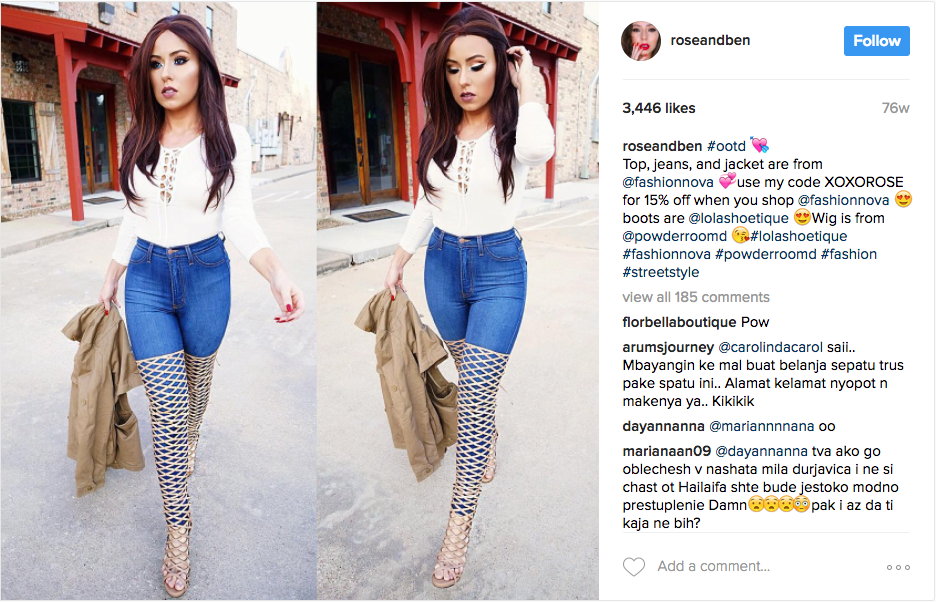 What makes Fashion Nova uniquely special is they source their clothes in the United States.  They parter with close to 500 sewing factories in the Los Angeles area. About 80% of its products are made in LA, Saghian said, and those local factories help maintain a warp-speed pace of new releases — blazing fast even by the standards of the fast fashion industry, where giants like H&M now move styles from catwalks to store shelves in a matter of weeks, rather than months, according to BuzzFeed which provides a strong competitive advantage for the brand.  It's ability to mobilize it's offering is absolutely staggering.
How fast, in a recent interview Fashion Nova reported they  monitor what's trending on social media and that triggers the design team to produce a sample product in less than 24 hours.  social media team monitors what's being worn online, sending trending styles to a design team that can produce sample products in less than 24 hours. If it fits, those styles will be ready for production within weeks, not months, like traditional fashion houses.
And it sells their items comparatively less expensive than their competition, Shoes are listed between $30 to $55.  Dresses are in the $25 range and up.  But nothing really expensive as you will rarely se something more than $40.
We are in a fashion and social conscious environment as Fashion Nova is an expert at both.  They have the ability to influence the masses while meeting this off the charts demand with an internal supply chain that is 2nd to none.   Fashion Nova has built a seemless operation capable of turning a viral celebrity content piece (video, audio or photo) into clothing ready for shipping at breakneck speed.
"We don't even really have a strategy," said Saghian. "We grew so fast. We are just grabbing the tiger by the tail."  Certainly they are as Fashion Nova is both a social and business phenomenon.